RHODE ISLAND
GREATER PROVIDENCE
The state capital of Providence has some of the most well-preserved and spectacular architecture from every era of our history. It's a city which has grown, not replaced itself. With careful planning, preservation and restoration, a trip through Providence is a trip through American history itself.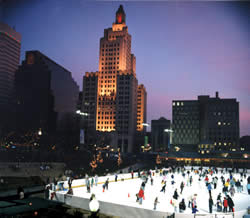 Providence was founded in 1636 by Roger Williams when he crossed the Seekonk River to what is now the East Side of Providence in order to escape religious and political persecution in Massachusetts. His philosophies have stood the test of time as Providence is lively mix of all religions, boasting some of the first churches for various demoninations in the country including First Baptist Church in America and First Unitarian Church in America. There is an extremely lively political scene, boasting many independent and fringe parties. And Providence is known as a gay mecca, the San Francisco of the east.
The East Side of the city is the home of two ancient and magnificent colleges, the Ivy League institution Brown University and the world reknowned Rhode Island School of Design. The attendant shops, cafes, restaurants and bars rival Greenwich Village as a Bohemian center.
The State Capitol building is the second largest marble-domed structure in the country - only the U.S. Capitol in Washington, D.C. is larger. Rhode Island's capitol is often used by film companies to stand in for the U.S. Capitol! The building is rich in history and open to the public for tours.
Shopping is an adventure in Providence. Within a one-mile radius, one can visit The Arcade, built in 1928 and the oldest indoor shopping mall in America in the heart of the business district in Downtown or as the natives call it "Downcity". From there, it's a hop, skip and jump to Thayer Street in the heart of the East Side which serves the Brown and RISD college communities as well as the artist and intellectual set at large. And then it's over to the Capital Center which boasts one of the newest, largest and most diverse malls in the country - the spectacular Providence Place. From the incomparable shopping with New York anchors and niche stores galore, to a multiplex first run complex and an IMAX theatre, to a fabulous array of dining for all tastes and budgets, a visit to Providence Place is an event in itself.
For the more adventurous eater, there's Federal Hill right up the street, the city's "Little Italy". "The Hill", while still hosting venerable and world-class Italian restaurants, has become diversified in the last couple of decades and offers and veritable world tour of fine dining to fit every budget including Asian, Mexican, Japanese and seafood.